| | |
| --- | --- |
| | Pro 6000 Ear Speculum |
Situation:
Welch Allyn required a best-in-class plating supplier to plate a critical component of their breakthrough ear speculum device to measure human body temperatures.
Background: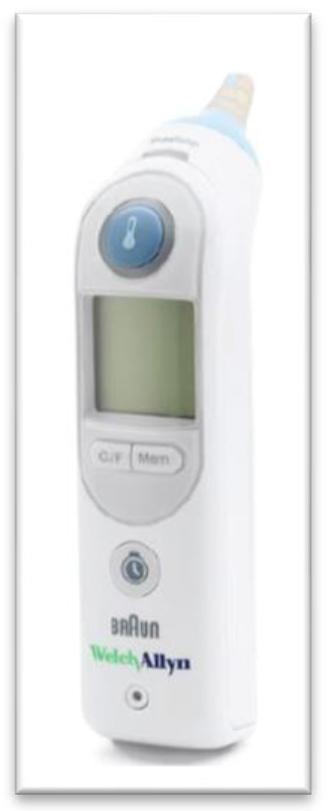 Within the medical community, measuring body temperature is critical to effectively treat patients. Current technology can lead to inaccurate readings resulting in potentially serious errors in patient care.
To aid with diagnostic efforts, the Welch Allyn product development team created the Braun ThermoScan Pro 6000 with advanced design and algorithms that more accurately measures body temperatures. Product functionality includes:
Patient Spectrum: Full-term Newborns, Pediatric, and Adults
Displayed Temperature Range: 68–108°F (20–42.2 °C)
Improved Accuracy: PerfecTemp™ technology increases accuracy of tympanic measurement compared to core temperature, especially when probe positioning is not ideal by correcting for shallow placement
ExacTemp™ Light: ensures proper, steady probe positioning
Pre-heated Probe Tip for more accurate and faster readings
Customizable security features to prevent theft, including security tether and wall-mountable cradle
Integral to the success of the ThermoScan Pro 6000 is the conductive and durable plating in requisite areas of the probe tip, which is inserted into the ear to take the temperature reading. This piece is a molded Multi-shot Plastic component that requires selective plating of multiple metals in three discrete bands that measure temperature in various locations within the ear canal.

The SAT Challenge
Welch Allyn required the probe tip to be highly reliable with long life. The probe tip was created using multi-shot molding of plastics (one plastic that is readily plateable (PC/ABS) and the other chemically resistant (PSU). The Welch Allyn team could not find a supplier with the necessary technology to plate the PC/ABS portion of the probe tip with excellent adhesive and conductive plating without jeopardizing the tight dimensional tolerances of the component itself.
SAT Plating Solution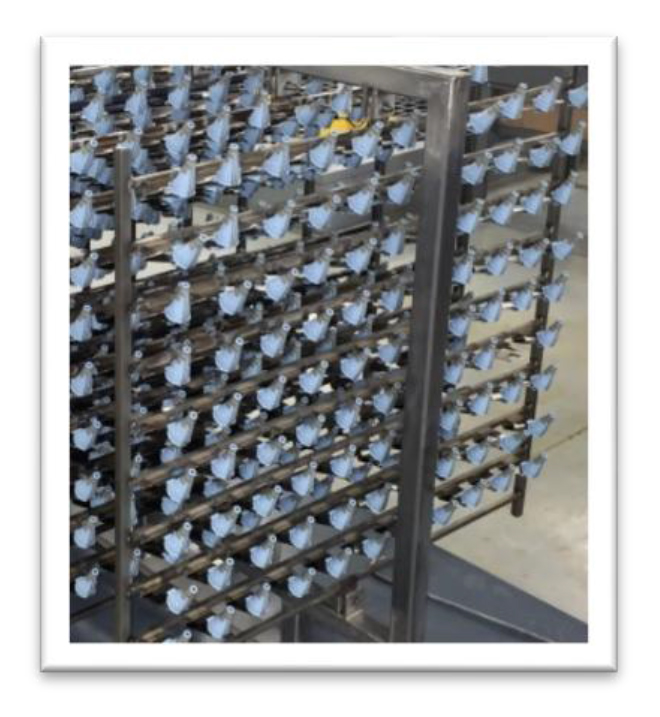 SAT's unique solution was to pre-treat the plastics with their proprietary Surface Activation® Process. This breakthrough technology atomically alters the surface of the plastic using no abrasive media blasting or hazardous chemical etching of the substrate. The result enables the 2nd shot material (PC/ABS) to be plated without altering any of the tight tolerance geometries of the plastic component itself (PSU).
SAT Plating Technology and Know-how has enabled Welch Allyn to launch this next generation of world-class ear speculum technology to the medical community around the world.

SAT Plating Case Study
Ford Motor Company: Plating of Lincoln Key Fobs
Situation:
Ford Motor Company's Tier I supplier looked to expand their supply chain for plating Lincoln vehicle key fobs.
Background: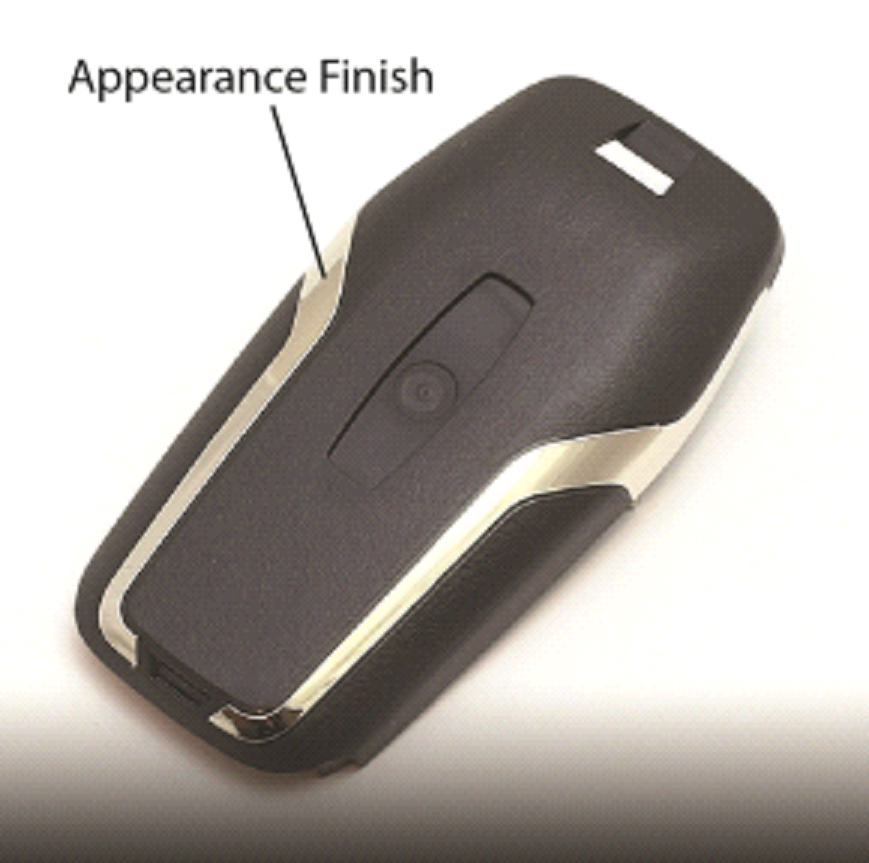 Plating on selective areas of plastic components, while achieving a high-quality, high-definition finished part, can be difficult to reliably replicate in consistent volumes.
The successful supplier needed to incorporate copper antenna functionality and decorative appearance plating on selective portions of the Lincoln key fob per Ford specifications. Requirements fundamental to success included:
Superior adhesion of plated finishes

Reliable product performance through time & variability of use

Consistent & dependable supply flow
SAT Plating Solution
Proactively Listen – SAT Plating held a series of meetings and discussions with the client to determine the scope of the assignment, what the specific operational and product performance issues were and what the criteria would be for a successful supply partnership.
Understand & Analyze – SAT's assignment would be to plate a key fob comprised of a top and bottom half. The top half required an integrated antenna structure of copperplate alongside an appearance finish of Black Chrome, technically known as Ford "Blackstone" SM 933. The bottom half would only require a decorative appearance finish of "Blackstone" chrome. Each part was a multi-shot molded plastic part allowing only certain plastic resin areas of each part to accept plating. By thoroughly understanding the scope of the project and type of plastics used in the fobs, SAT developed a plating strategy to produce a best-in-class end product.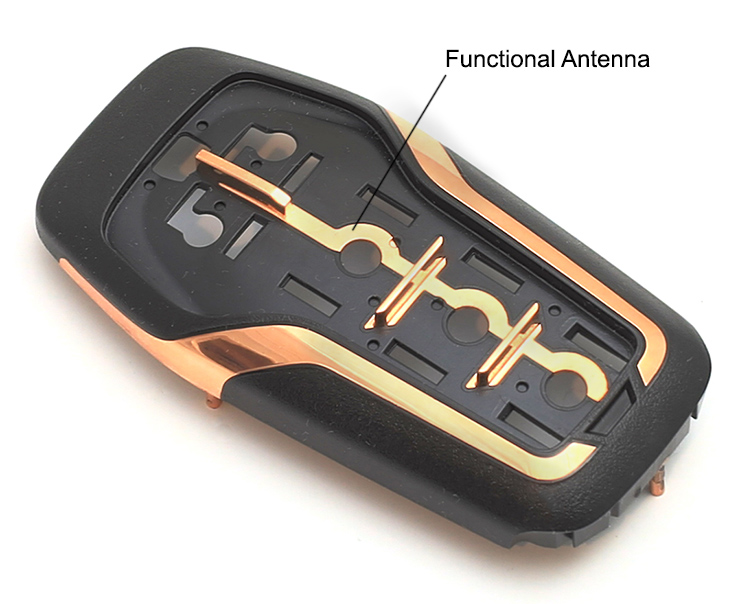 Devise & Prove the Plating Methodology – SAT ran a variety of tests to develop the best methodology to produce the end product. Special requirements needed to be met in order to prepare different plastic surfaces for metal deposition. SAT's expertise in surface preparation - including its proprietary Surface Activation® Process - allowed us to create cost effective & time efficient processes. These processes ensure best-in-class metal deposits for structural, functional and visual finishes, resulting in a Lincoln key fob with superior functional antenna and decorative appearance characteristics.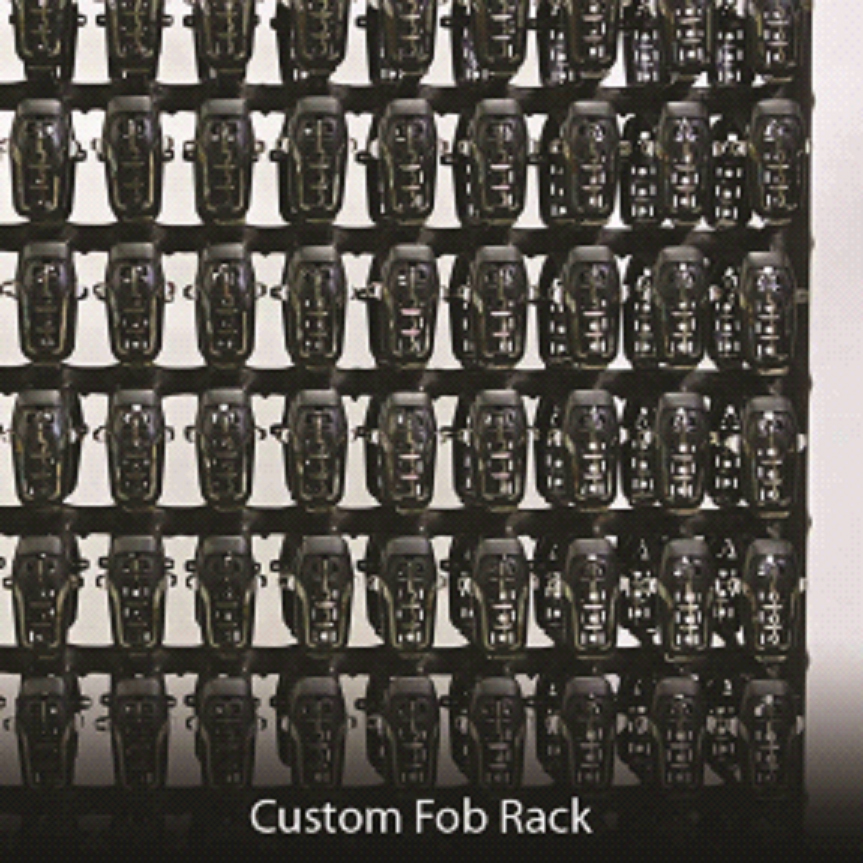 Production – Once our plating methodology was refined and settled, SAT's challenge was to begin production to ensure a steady supply of key fobs based on downstream production plans. The fobs required high-quality plating with low fallout. To accomplish this, SAT:
Designed and fabricated special racks to batch process the top and bottom sides of the key fob

Produced a written plating production plan that defined each step in the process along with specific metrics, chemistry & cycle time requirements

Created a quality control plan which included periodic part analysis to assure finish quality, plating adhesion superiority and monitoring for production timeliness in all steps of the production process
SAT Plating's new SelectPlate™ process allows biocompatible polymers to be electroplated to achieve superior performance characteristics.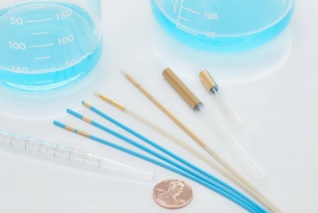 Deliver innovative products to market faster
Broad range of substrate & design capabilities
Be a technology leader in your industry
We live in an increasingly "connected world" that allows us to communicate with our household appliances, security systems, light fixtures and vehicles.The medical industry also operates in this "connected" environment. Implantable devices, chemotherapy ports, pharmaceutical dispensers, and intravenous tubes can now communicate with physicians, caretakers and us. As medical devices continue to evolve, there is an increasing need for smaller and more capable batteries, sensors, and component applications (i.e. electro-surgical devices, radiopaque markers).
To facilitate these emerging concepts getting to market, electrical conductivity, signal detection, localized heating, and EMI/RFI shielding are some of the critical performance characteristics required. Previously, design engineers faced limited options in biocompatible polymers with even fewer polymers that could achieve necessary performance requirements. With SAT Plating's SelectPlate™ process, these barriers are now removed. Device manufacturers can include the best polymers in their designs to create the cutting edge technology that the market demands.
Plateable Substrates

Polypropylene (PP)
Polyurethane (PUR)
Polystyrene (PS)
Polyester Polyvinyl Chloride (PVC)
Polyether sulfone (PES)
Polyethylene (PE)

Polysulfone (PSU)
Polyetheretherketone (PEEK)
Thermoplastic Elastomers (TPE, TPU)
Thermoset Elastomers, Poly-p-xylylene (Parylene)
Polyamides (Nylon)
Polyimides (PI)
Polyacrylate (PMMA)
Plating the entire substrate or selectively plating films, fibers, tubes, or geometrically dynamic parts is possible. In the above photo, a small gold band plated onto different biocompatible polymers acts as a radiopaque marker. Likewise, a small circuit can be plated for signal attenuation. Additionally, copper plating can be used with a subsequent polymeric coating applied over it for certain applications.
SAT Plating collaborates with customers to provide the innovative technologies needed to drive the technology and the medical device market.